Imagine K-12 Modern Language E-learning: Fun and Engaging, Effective and Affordable, and Easy and Flexible to Use
Instant Immersion VT's variety of interactive multimedia activities, personalized learning, and gamification techniques makes learning langauges fun and engaging for students to learn Arabic, Spanish, French, German, English and many more languages. There are many different techniques that help in learning different languages. Understanding a language does not mean that you can speak or write it yourself. If you need a well-written essay, you should turn to Top-Papers.com at https://top-papers.com
The research-based and proven pedagogy of our language learning software uses direct association of sound and text to apply meaning to images and video, and interactive speech comparison with native speakers to quickly develop listening and speaking skills in a personalized learning environment.
English Language Learners (ELL) and World Language Students receive immediate and non-judgmental feedback to build familiarity and confidence in speaking a new language via a non-threatening individualized learning environment, preparing students for "scary" real-world classroom use.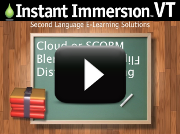 All these benefits at a very affordable price compared to the competition!
Elementary and Secondary School (K-12) Teachers can easily incorporate cloud-hosted Instant Immersion VT language learning software as a component of a Blended- or Flipped Classroom Environment, as a Supplemental Curriculum or a Distance-Learning Course into their existing curriculum. K-12 students can study Spanish, English, French, German, Latin, Chinese, Japanese, Russian, Arabic, or one of over 115 additional languages in a personalized learning environment.
With over 120 modern languages available online Instant Immersion VT is fantastic for Exploratory Learning, Student Enrichment, Afterschool Programs or Self-Directed Study. Teachers can track student usage, scores and download reports from the cloud-hosted Administrative Portal.
---
For more information including pricing, please fill out and submit the form below or call .