How does Instant Immersion VT's language learning software support campus language learning objectives?
There is a listening technique. Everything we hear many times we remember. You can learn more about the methodology by ordering an essay at discussion post writing services and discuss it at the workshop.
Instant Immersion VT's variety of interactive multimedia activities including video, use of gamification techniques and individualized learning makes language learning engaging and fun for college students.
The research-based and proven pedagogy of our language learning software uses direct association of sound and text to apply linguistic meaning to images and video, and interactive speech comparison with male and female native speakers to quickly develop listening and speaking skills in a personalized e-learning environment..
Foreign Language and ESL Students receive immediate and non-judgmental feedback to build familiarity and confidence to speak a new language via a non-threatening virtual environment, preparing students for classroom participation to speak Spanish, Chinese, French, English, Latin, Arabic, Russian or many other available languages.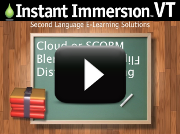 All these benefits at a very affordable price compared to the competition!
Professors and Instructors of Spanish, English, French, German, Italian, Chinese, Japanese, Russian, Arabic, Latin, Hebrew, Portuguese or one of over 110 additional modern languages can easily incorporate Instant Immersion VT language learning software as a self-study component of flipped-learning, curriculum suppliment, language lab resource, intensive English program (IEP) or part of a distance learning course.
With over 120 foreign languages available online, Instant Immersion VT language learning software supports the teaching of almost any language available at colleges, and gives students many choices for independent-study and personal enrichment to learn Arabic, German, French, English, Latin and less commonly taught languages.
Instant Immersion VT can be easily integrated into your campus' Blackboard or other Learning Management System (LMS), or accessed through a cloud-hosted Student and Administrative Portals that allow tracking of student usage, scores, and downloading of reports.